Ironheadsofseo.org is the online home for The Railroad Model and Historical Society of Southeastern Ohio.
We are an organization of people interested in any and all aspects of railroading including: indoor scale modeling, outdoor scale modeling, "tin plate" train collecting, full size train operations, railroadiana, and history and hisorical significance of railroading, especially in southeastern Ohio.
We thank you for visiting our Website, Happy Railroading!

All Aboard for Railfair'21!
Do you have a layout or set-up that you would like to display at our public event? Please reach
out to a club member to learn more. While the majority of the displays at Railfair are from our
Club Members, we invite anyone who shares our passion for model railroading to participate
in our Holiday Railfair show.

Maybe you don't have a display to bring but would still like to participate? We would like to invite
anyone who has their own equipment or would be interested in some throttle time on our layouts
to reach out to the club.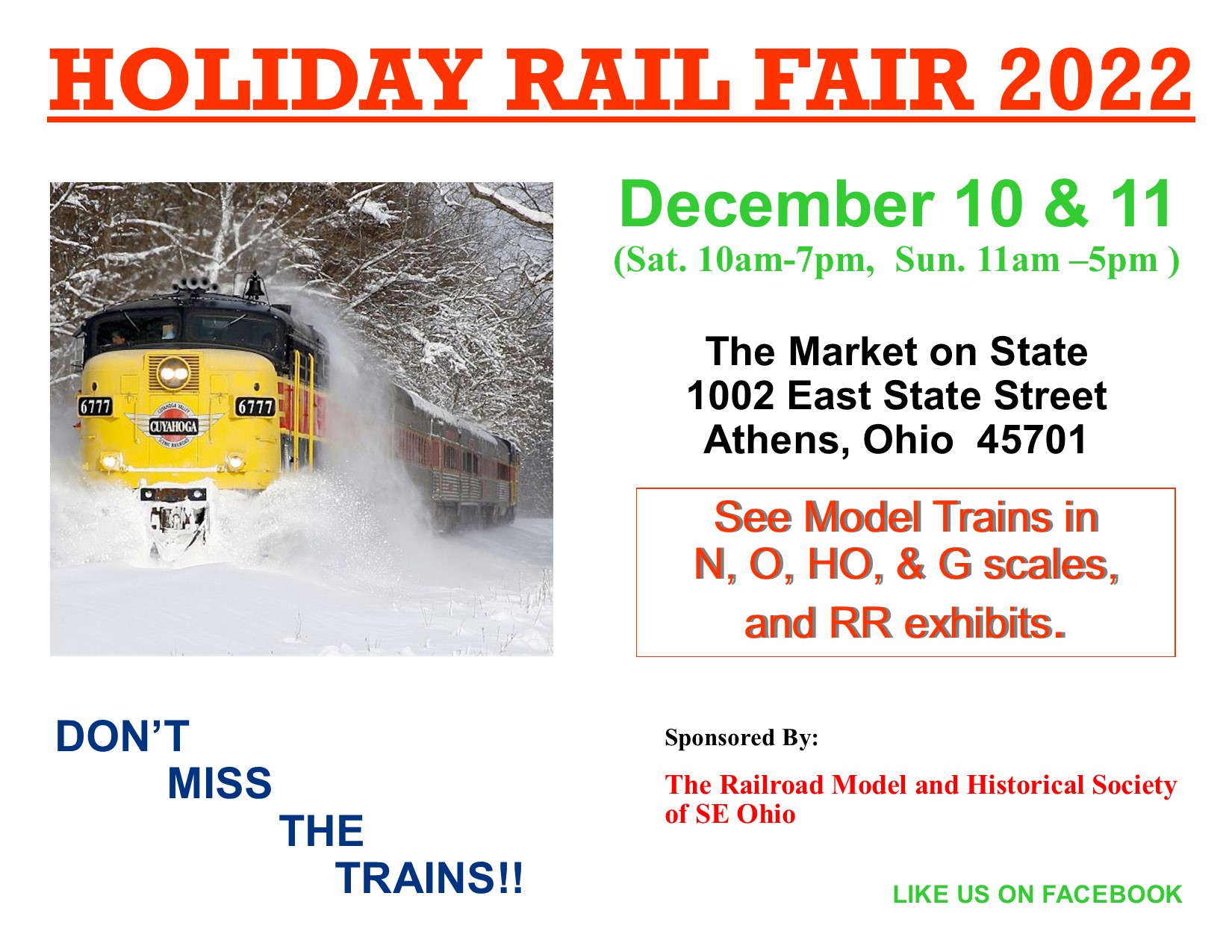 Tips & Tricks Tuesdays! Projects that our Members are working on.
Though we have not been able to meet regularly or offer Open Houses to the Public, we have still been keeping busy these past few months with projects on our home based layouts and other Railroad related things. While we are awaiting the all clear signal to begin our Open Houses again, we will take some time to present some of the projects that have been keeping us busy.
Click here to go to the Tips & Trick Tuesdays Projects Page.
New Picture Albums being added to the web page!
Click on the "Layout Pictures" button at the top of your screen to view pictures that we have uploaded.
Check back regularly for new pictures of past Railfairs, our HO Club Layout, and the N Scale BendTrack layout.
Do you have any pictures of our past events that you would like to share with us? Please contact us!
Do you shop on Amazon? Please consider selecting The Railroad Model and Historical Society of Southeastern Ohio as your Amazon Smile charitable organization. How does this help the club out? When you use Amazon Smile with us as your charitable organization, Amazon donates 0.5% of your order total to us! These funds help us to both maintain and work on our traveling model railway displays that we display for the public's viewing pleasure. Follow the link below to set the clup up us as your charitable organization. Thank you for your consideration!

Upcoming Events (Click Here for more information)
Upcoming Club Meetings & Events
Railfair '22
Our annual Holiday Railfair will be
held the second weekend in December.