Tips & Tricks Project Page from the Club.
Below are different projects that our Members are working on to prepare for the next show. We will be adding new projects, tips & Tricks, and other useful How-To's for Model Railroading and Train related projects every Tuesday.
Quick and Cheap Rock Faces - by Member Bo DeCoy
August 4, 2020
Last week we created hills for our Model Railroad Scenery. This week we will look at a technique to make rock faces to go along with our hills and terrain.
On this week's Tips & Tricks Project, Bo shares with us how he makes rock outcrops to add some variety to his hills when he models rural Appalachia.
"I am pretty sure that this method has been around for a while, but I was shown it several years ago while we worked on a club module. There are many different ways to create rock outcrops, but this is the way that I lean towards as you can get very quick results and the materials are cheap and readily available to me. You'll need white glue (or hot glue for faster results), a drop ceiling tile (can be purchased at any Re-Use store for a couple bucks), a box cutter, and a garbage can or box to help contain the mess. This process can be done with modelers of all ages, but I recommend that a more senior modeler use the box knife.
Take your ceiling tile and break off small strips. The ceiling tile does not brake off uniformily which is good when modeling rock outcrops. Now here is the messy part, over a box or garbage can, remove the textured surface of the strip of ceiling tile by carefully scraping it off with a box knife. Again, this should only be done by someone who is able to handle a box knife safely. The textured side is the side you would see when the ceiling tile is installed and is usually painted a color. After the textured surface is removed, the rock is then ready to place on the working area. This is the same process that you will use to make all of the rocks for the rock face. Some additional shaping of the rock may need to happen to make them fit, but that is all it takes to make a rock for our wall.
With your chaped rock, you can use either white glue or hot glue to place it on the working area. Sometimes I will layout a whole layer of rocks before gluing them down so that I can visualize what it will look.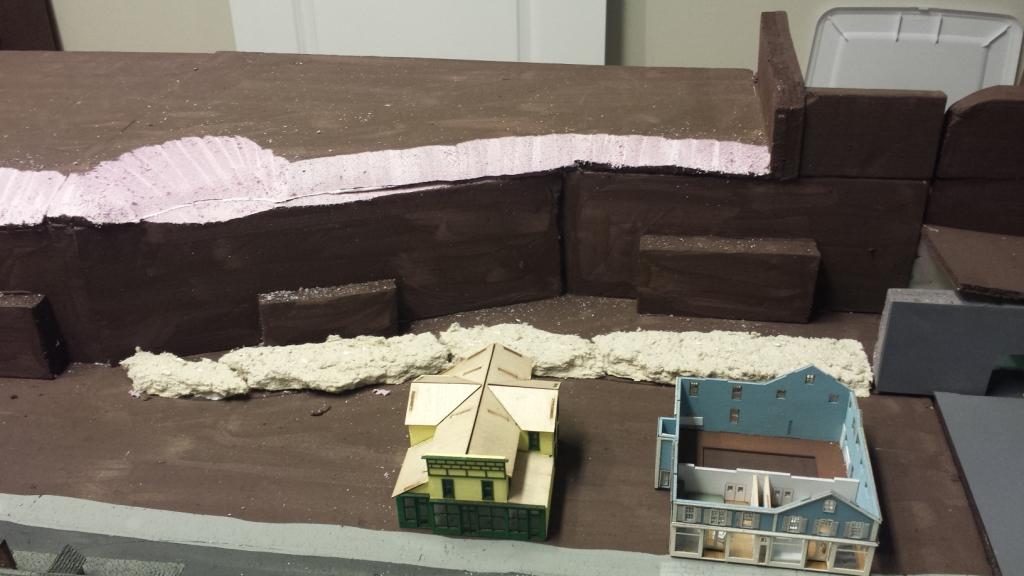 Keep layering the rocks until you reach the desired height. Also, not all rock formations are horizontal, some are sloped or even bent depending on the area that you are modeling. Be sure to keep that in mind as you layout your rock faces.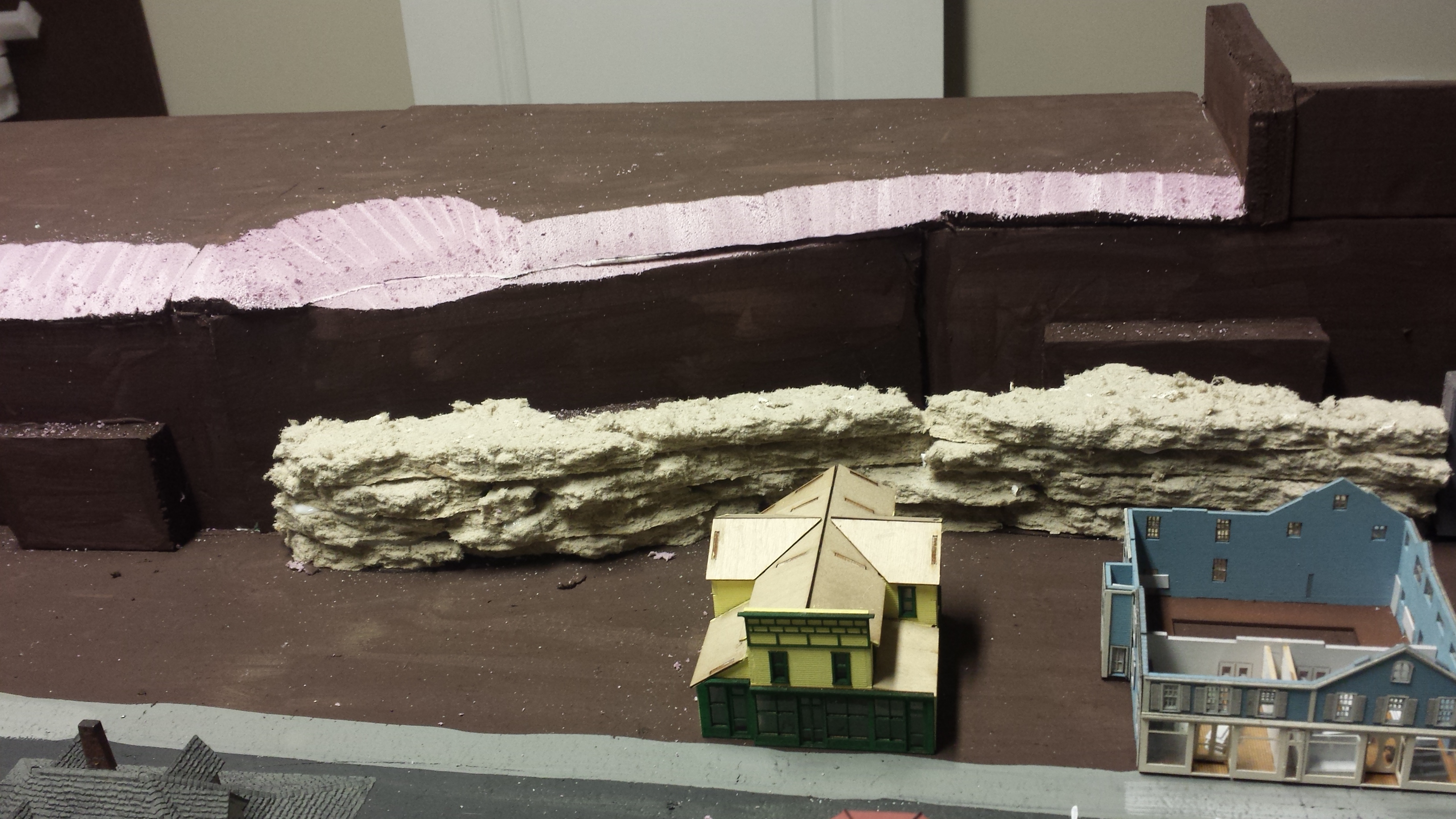 Once you are down laying the rock face, apply a base color of craft paint. Really layer on the paint as this material will soak up paint and the paint will actually help reinfore the rock work and make it stronger. Again choose a color based on your modeling area and with that in mind, dry brush secondary colors onto the rocks to help add variation in the coloring.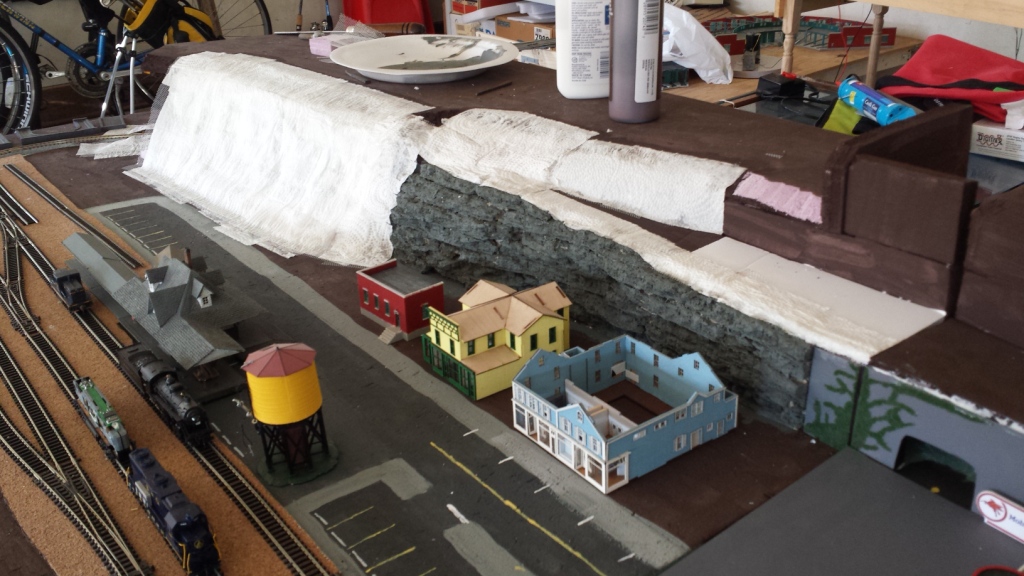 You can use the paper towel hill shaping method that we showed last week to help blend in the new rock faces into the hillside. Be sure to add bushes, trees, and ground foam to really make the area look good when you get to the scenery part of your layout build!
Mountain Raising - by Member Bo DeCoy
July 28, 2020

Have you ever wondered how the landscape on model railroads are created? How do Model Railroaders go from a flat blank canvas to a landscape with hills, cliffs, valleys, and river beds? Even if you are an experienced Model Railroader, this may be a new method that you may be able to use.
On this week's Tips & Tricks Project, Bo shares with us how he created the hills on his N Scale Bendtrack Return Module.
"I picked up this method several years ago from an online source. There are many different ways to form hills, but this method seems to be the easiest for me. Your mileage may vary though. This is very similar to paper mache where you take a flexible material and soak it with a material that hardens over time. For this project, we will need some foam pieces, paper towels, a wide paint brush, and some white glue (buy this big container of it).
The first step is to glue and stack the foam pieces to the desired height and shape. It sometimes is easier to shape the foam before gluing them down.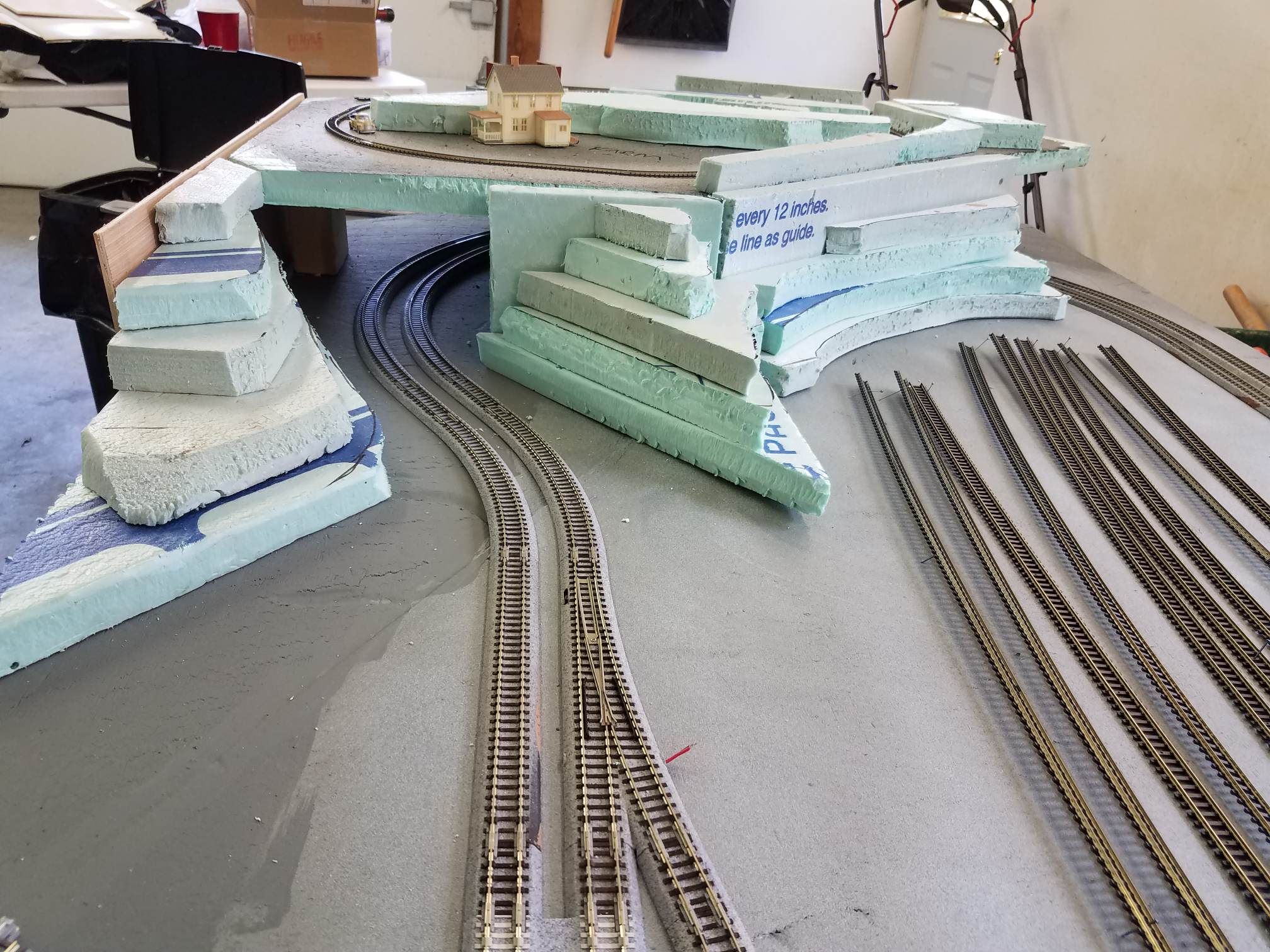 I will often get the inspiration of how to shape the foam by setting the models in the area to get the feel for the lay of the land.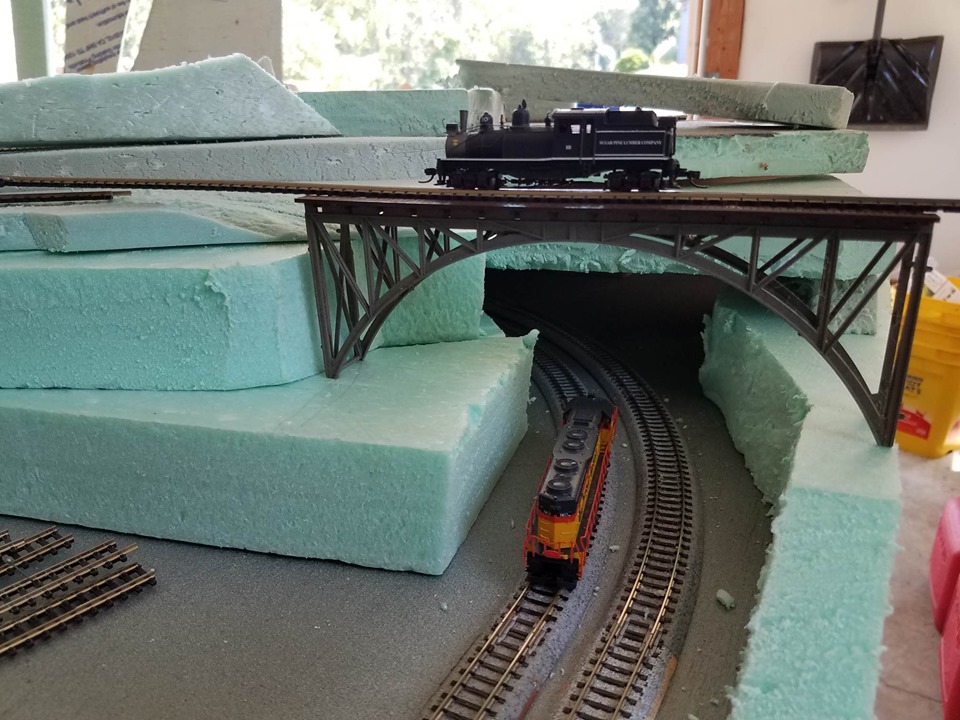 Once I am happy with how the roughed in terrain looks, I cut paper towels in 1 & 1/2 to 2 inch strips. This is can be the messy part. Working from one side of the hill, I take the paint brush and brush on some white glue to wherever the paper towl strip will touch the foam. Once the foam is coated with glue, place the paper towel. Take your paint brush again and brush glue on to the paper towel to coat the paper towel strip.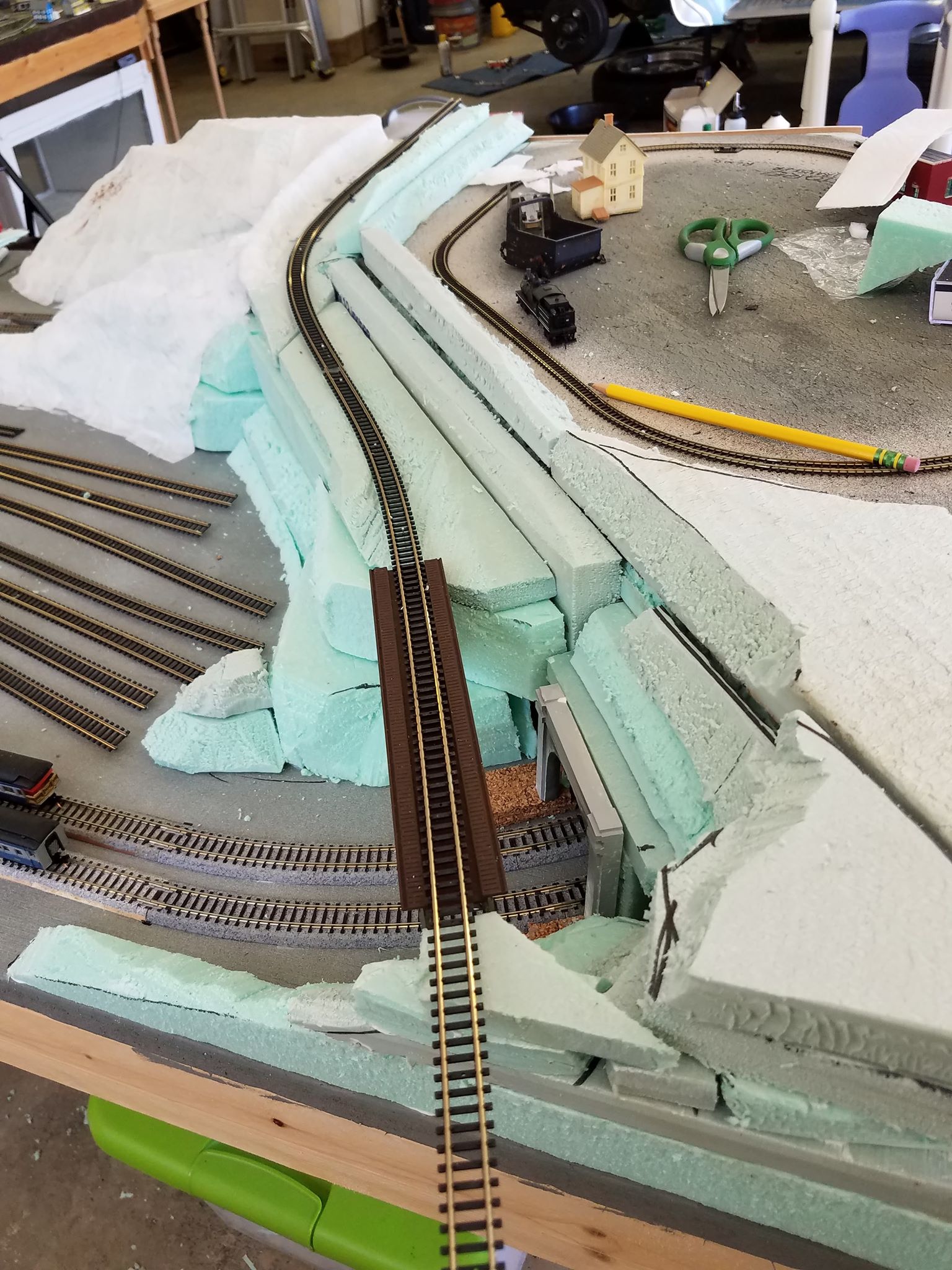 Repeat this process until you reach the end of your working area. While the first layer is still tacky, I normally add a second layer to help reinforce the areas that may be covering a gap in the foam. Repeat this process until you are happy with the slopes of the hills.
Your working area should look like a Winter Wonderland at this point. Let the paper towel layers dry before moving onto the next step. This may take several hours or over night depending on how heavy you applied the white glue.
Next step is to paint the paper towels. I would recommend finding an "earth" color of which ever area that you are modeling. I chose burnt umber as my color.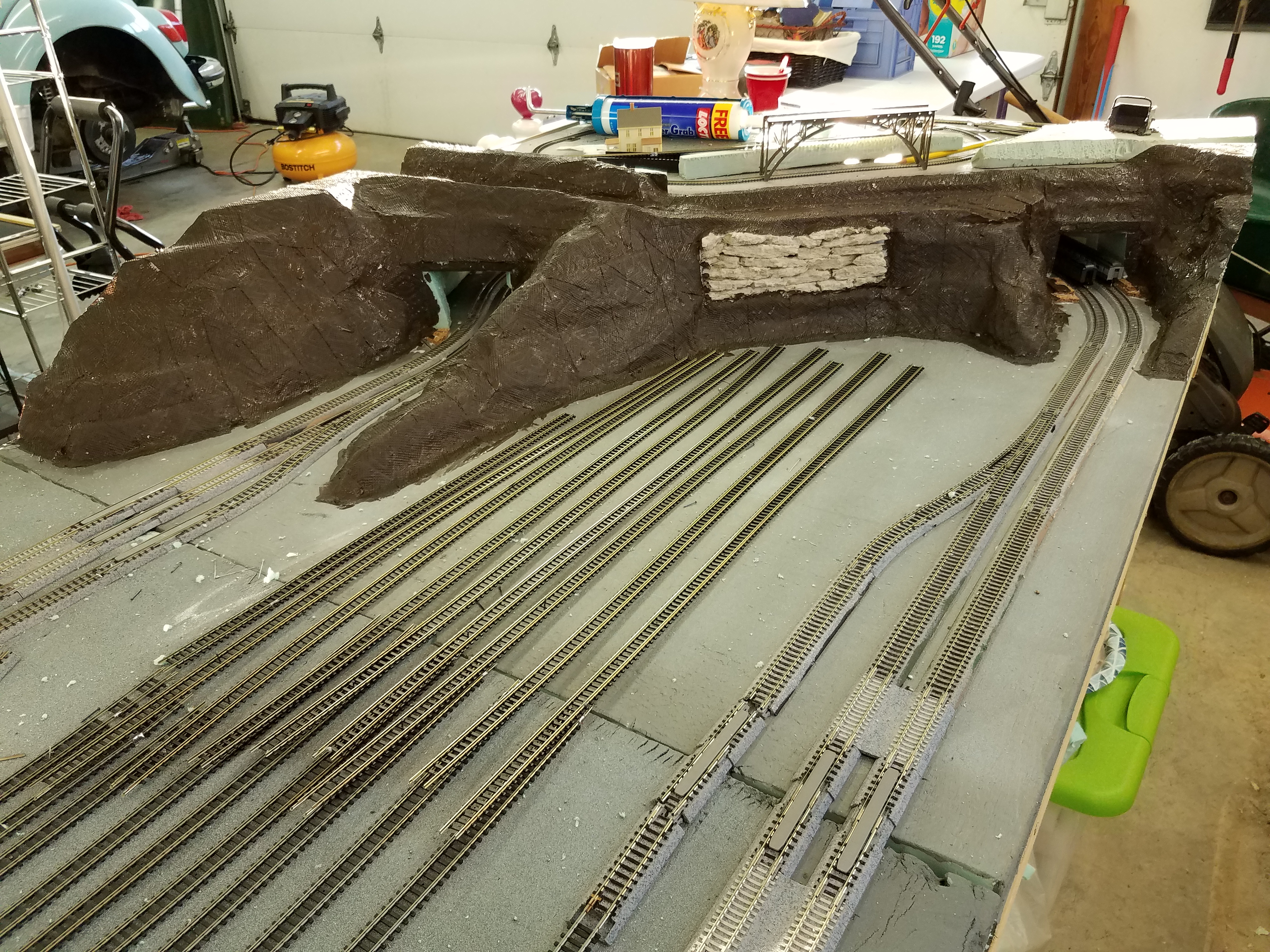 Do not be stingy with the paint. I find that if I apply a heavy coat(s) of paint, that it will help disquise the pattern on the paper towels. Also, the white color will be more noticeable then your earth color paint and will blend in better with your scenery. After the area is painted, move onto scenery!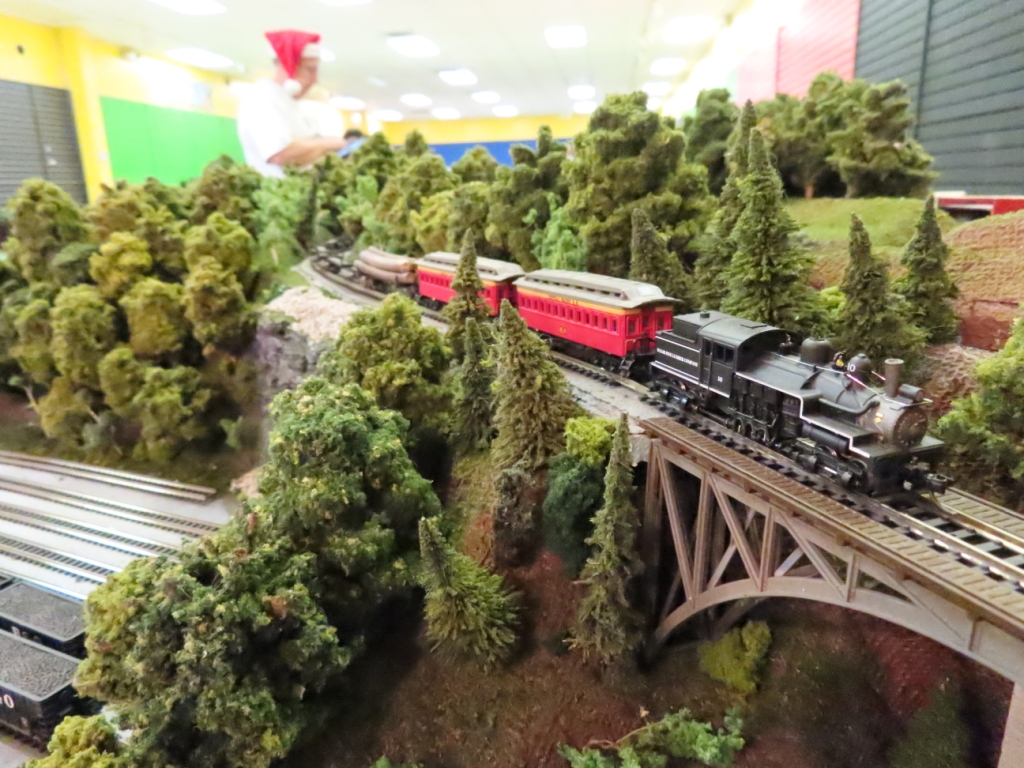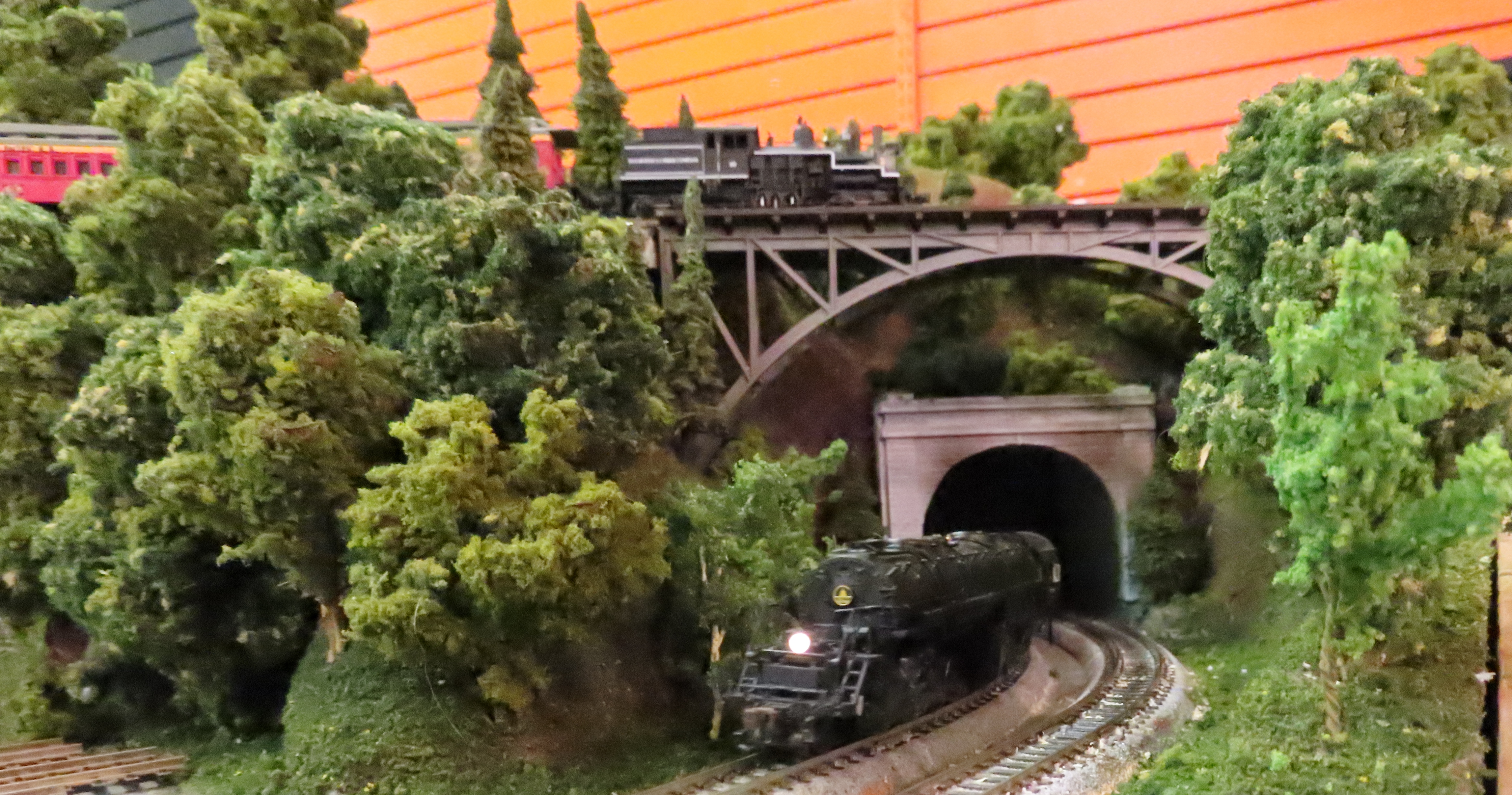 I hope you enjoyed this method of terrain forming. To me, this is a low cost method that can yield great results."
Weather Rolling Stock - by Member Peter Hayes
July 21, 2020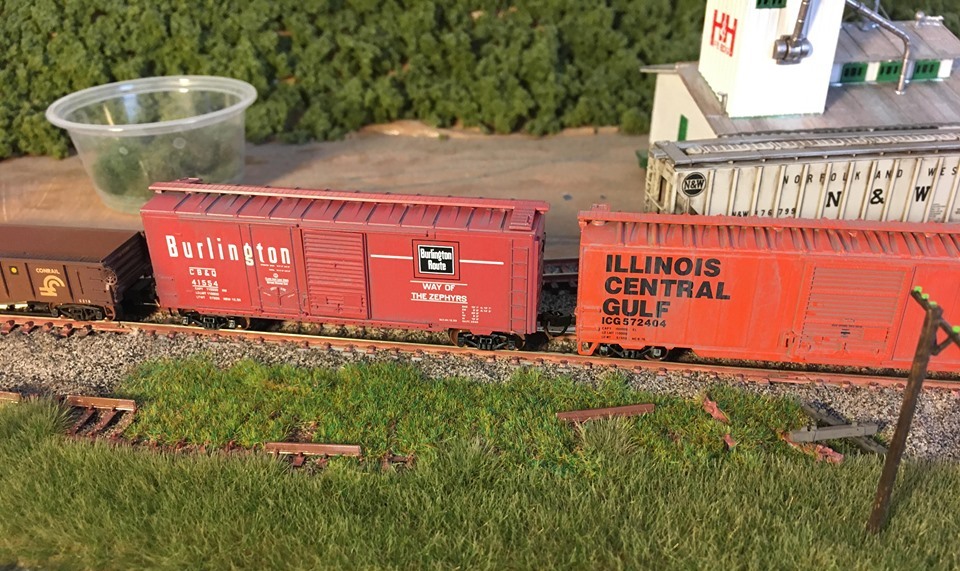 On the railroad, freight cars were very seldomly cleaned and most of them do not look like they just came out of the box like the models that you bring home.
Peter has been working on taking the "sheen" off of some of his N scale rolling stock to make them look closer to the real thing.

Read below to see how he lightly weathers his rolling stock.
"Usually, I weather a car using alcohol-based weathering washes. This ends up being time consuming, messy, and it starts to look uniform if you are not careful. So I was looking for a different way to weather my rolling stock (and locomotives!).
I found that, using ~$1.00 bottles of acrylic paint mixed together with water, you can have freight cars not looking significantly weathered, but worn enough to fit into a fleet of cars.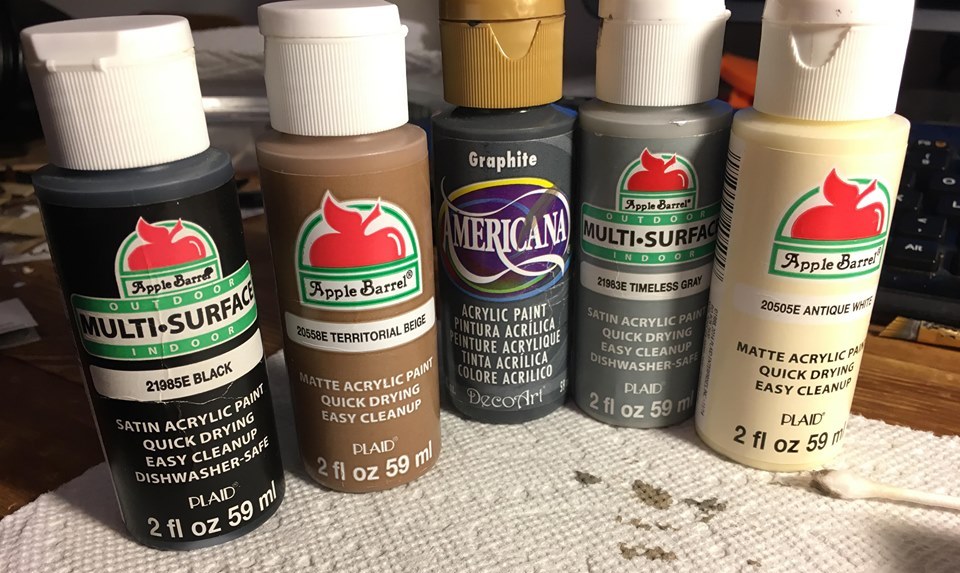 This is the starting point for the car. First up, I remove the chassis and trucks. I also added an ACI barcode to the side, which places the car firmly in the 70s-80s.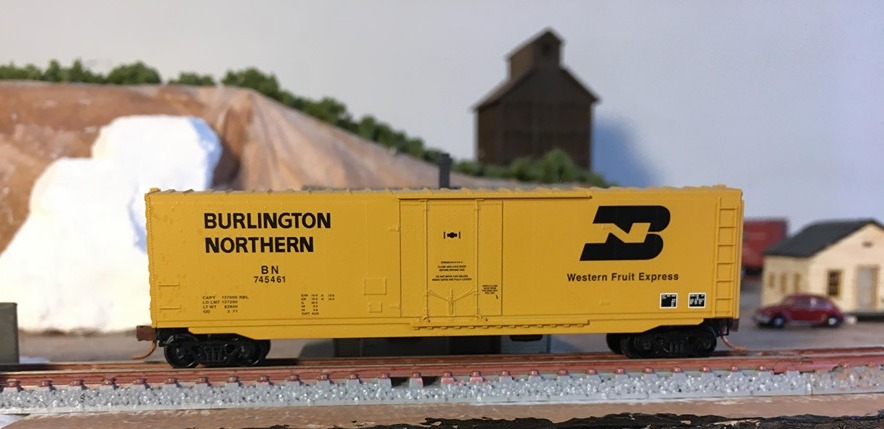 Next, I mix together a few different acrylic paints, plus a little water to thin it. Once I reach the color that I am looking for, I brush it over the entire side of the car.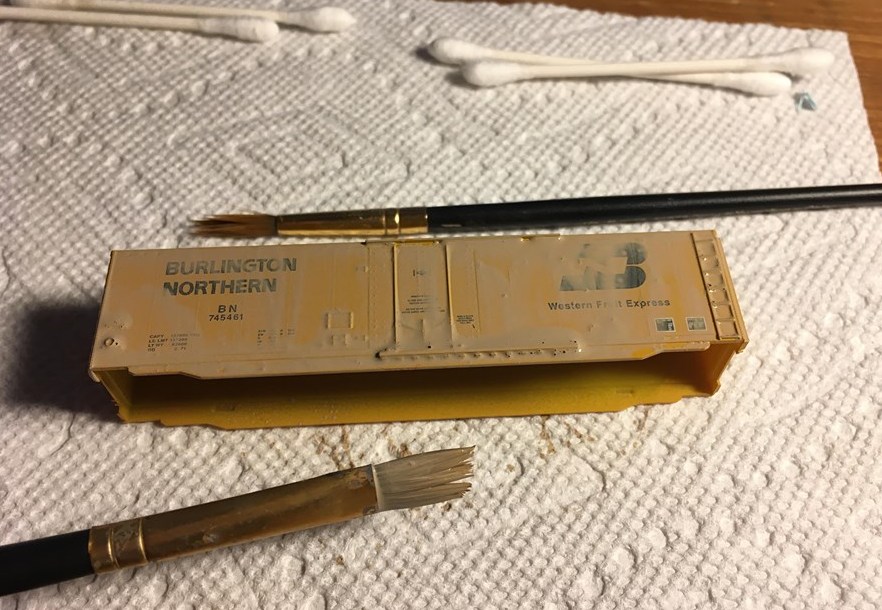 I let it sit for 30 seconds to a minute, and then wipe downwards with a paper towel, leaving a little bit of paint on the car, especially under surfaces. I usually do this a few times, occasionally mixing a different color in for variation in places. I let the paint dry completely between each coat.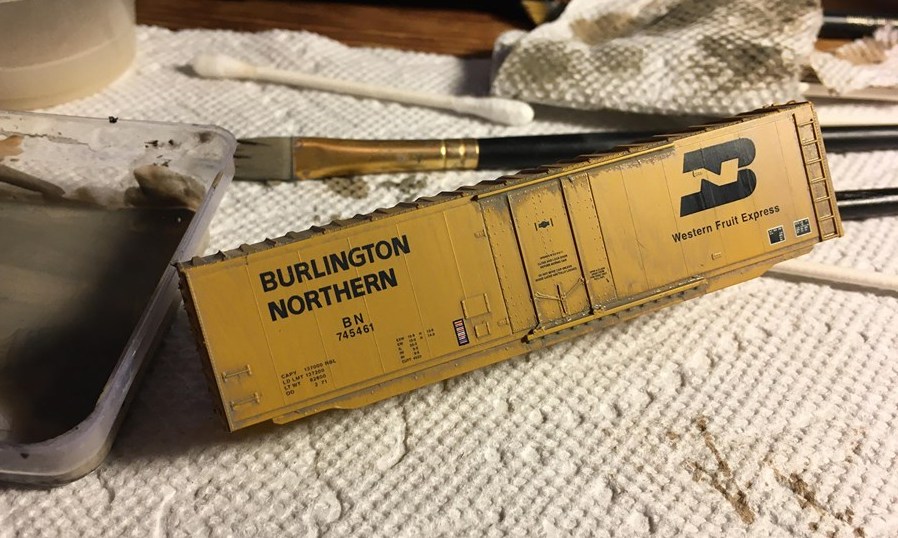 The roof is similar, I mix a slightly darker color and make sure at least a little paint is on the whole roof. I did this twice.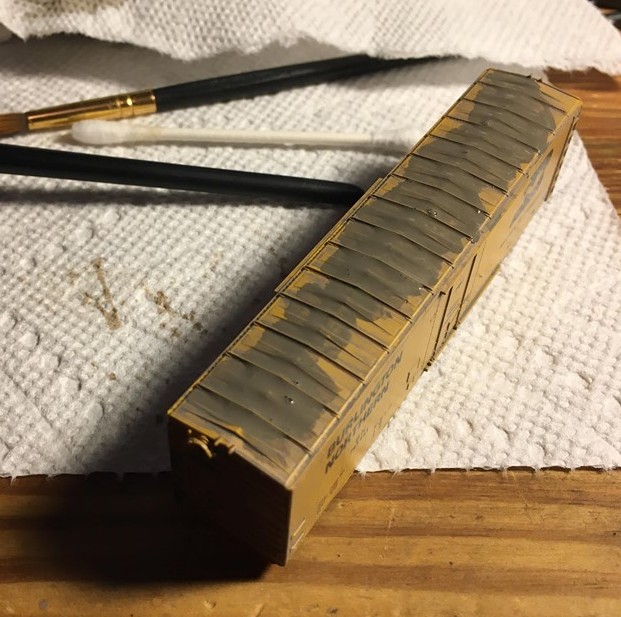 Then, using a paper towel, I again wipe the paint off. With this roof, I wipe from the center out, like how rain would hit the car. It settles into the grooves.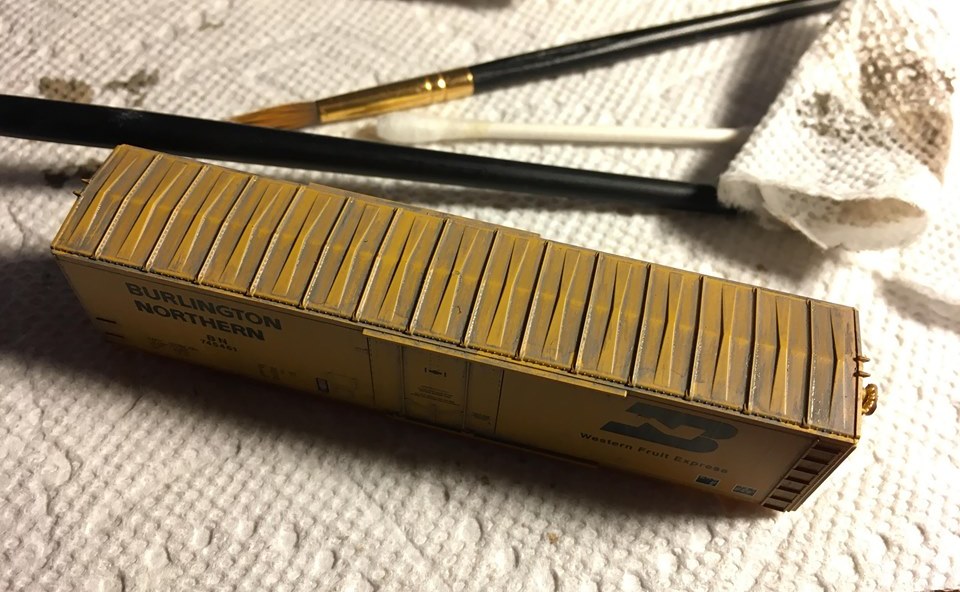 Before reassembling the car, I use a brown paint pen to paint the outsides of the wheels, being careful not to get any on the flanges (where the wheel actually touches the rail).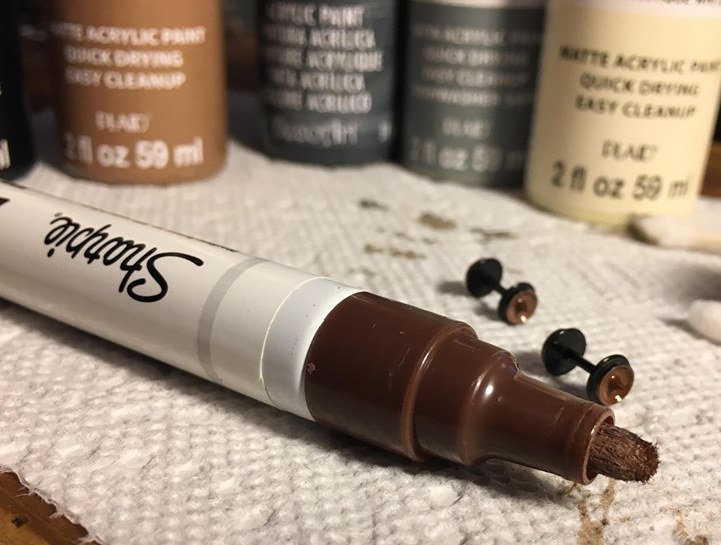 The whole process can range from a few minutes to half an hour, depending on how strong you want the weathering to be. The end result is a not-too-weathered boxcar, which has enough wear and aging to look good in the middle of a freight train! "